Update: Lamborghini Portfolio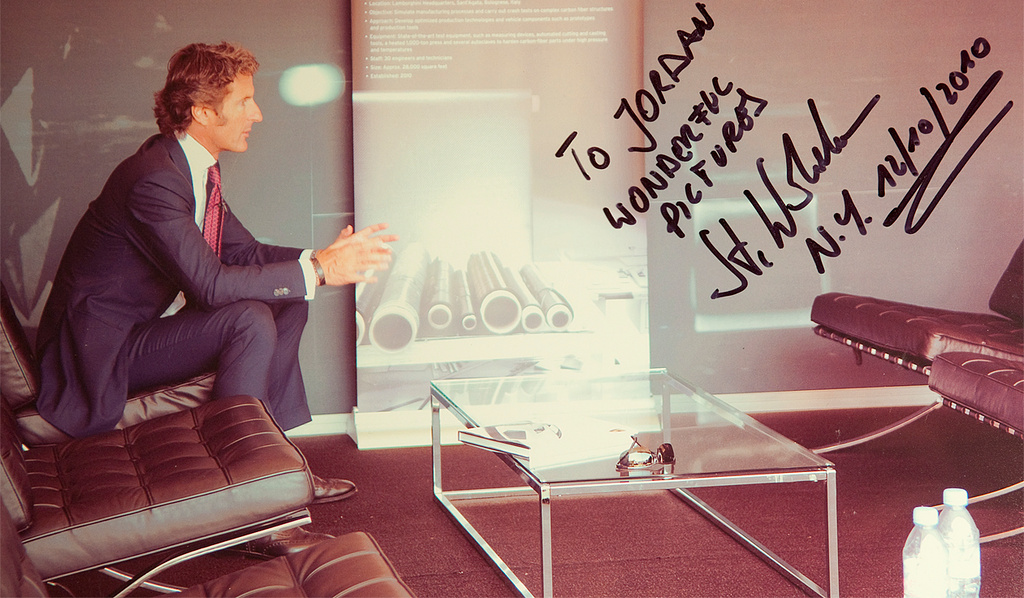 So, I guess they liked it! Stephan Winkelmann (pictured above) is the CEO/President of Automobili Lamborghini and flew in from Italy. I was told that he really liked what I have to offer and even called over the COO and together they looked at it again. Also, the head of Lamborghini North America and the President of Centigrade had a look at it as well. For those who aren't familiar with Centigrade Unlimited, they are the global marketing and advertising firm for companies like Bugatti, Lamborghini, and Breitling to name a few.
Stephan Winkelmann was even kind enough to sign my portfolio, and I should be hearing from him at the start of 2011. Hopefully, a photo shoot with the new LP-700 Aventador will be in the mix. 8)
But none of this would have been possible without Jim, Tom, Seth, and Eric of Lamborghini Las Vegas. Eric Williams is one of the best car detailers out there. He's the only person that Lamborghini trusts with the new Aventador to personally prep and detail the car for each of their private unveilings. In fact, as this is being written, he's en route to Miami for the last of the LP700's private showings.
Lamborghini entrusts Eric so much that they have flown him to Italy to personally train their detailers to help them achieve his masterful results. With Eric spending all this time with the executives of the company, he has been able to form a number of close friendships. And, at Eric's recommendation, I got a portfolio together for him so that he could present it to them in NY. I really am truly grateful for all of his encouragement and help to personally hand deliver my portfolio to these very influential people.
I know that there are a TON of photographers far superior to me in every aspect and I'm just so humbled and thankful for all the doors that are being opened for me.
But most of all, I owe everything to the big man upstairs. He is good.