Ford GT Super Car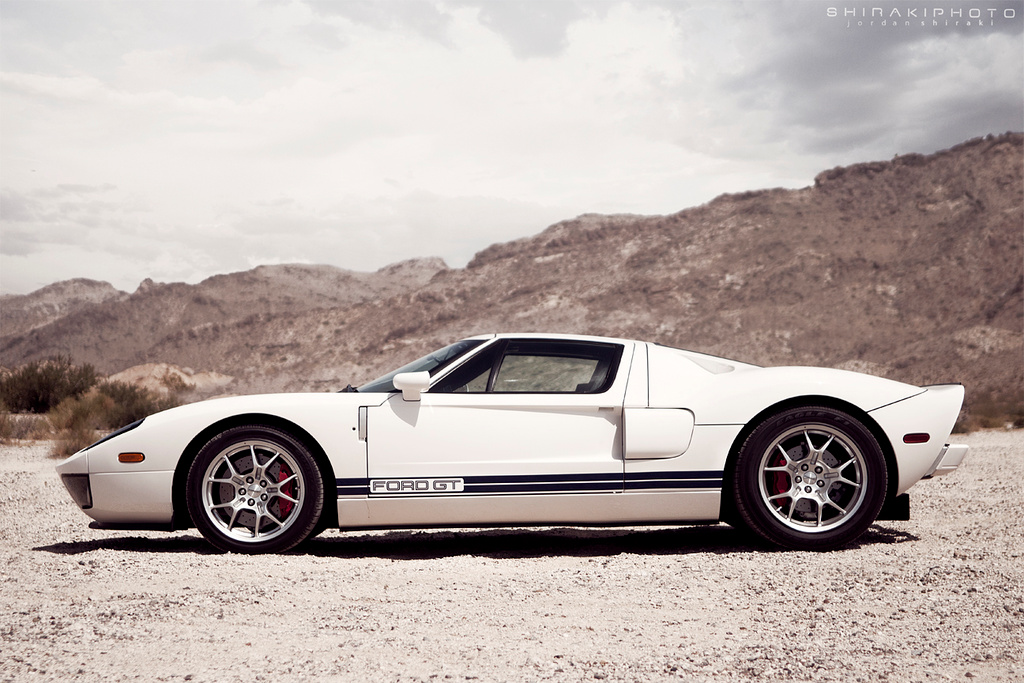 Car:  2006 Ford GT
Where: Arizona
About the shot: I have a shot list for every full feature I do. I learned to do this from the amazing photographer Steve Demmitt when I shot for JTuned. Basically I have a check list of all the shots I need to get so I don't forget any. This includes front straight, rear, profile 3/4 front, 3/4 rear, rims, mirrors, headlights, emblems, badges, interior, etc. And I just finished this shot which would be the profile shot of the set.
How: For this profile shots its important for me to get as little distortion as possible. So a technique that many automotive photographers use is to go really far away and zoom in as far as possible (in my case I'm at 55mm on my 17-55). This eliminates barrel distortion and if you pair that with a wide open f stop like I did (f/2.8) you'll get a nice creamy background that the crisp car stands out from nicely from.  Look at automotive magazines, you'll see this used all the time. Its really easy to do it so go out and try it
Post processing: This is actually a combination of two shots. The original was framed way too tight but luckily I took a wide shot of the exact same picture so I was able to get some room in the front and back of the car. Basically I took the tight framed picture (because there was more detail on the car) and overlayed it on to the wider background. I then proceeded to crop inward until I thought it was framed perfectly.
Gear: Nikon D300S + Nikon 17-55mm f/2.8